Now, I would generally disagree with anybody who wanted to convince me of the crucial interrelatedness of a certain style of music and the corresponding style of cooking to complement the music.
Suppose Mozart grew up eating not the fluffy pastry so typical of certain regions of Austria, but instead, let's say smoked salmon and dark bread…. Would we conceive of his music the same way we do now? Or had there then been another great classical composer and Wolfgang Amadeus would have never made it to any court? Well, I don't think so.
But then …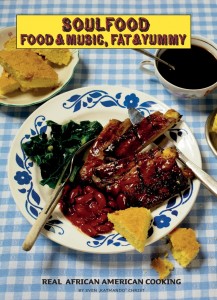 There actually is one exception (that I would immediately agree upon). And this is the interrelatedness of American music of African descent, meaning the treasure of blues, gospel and later jazz and soul music and a certain cuisine. Food, in this case the so-called "Soul Food" of the South, is not only mentioned in many songs, rhymes, ditties, and even folklore; in this very cultural environment, it determines the roots of many musicians and their relation to people of the same origin, be it regional (the South) or aesthetical (African-American in style). It also may include a shared history.
And this certain cuisine, being brought into the cities as early as the first big migration, had necessarily an impact on the music of the city. Just like on electric RnB, city blues, soul and obviously … on jazz at each step in its development. Since newcomers, like many, many uneducated black "country boys" with their families not only brought their cuisine, they also had a rich heritage of language, proverbs, folklore, and as a matter of fact their music. Many soul food restaurants ran "Home-Style Cooking" in their advertisements. And that was the simple truth: where it tasted like home – for those mostly black migrants entering the cities of the North – it felt like home, no matter then that your home town may be a good 2.000 miles away.
So here is a nice hardcover cookbook, coming together with a CD whose artists praise just what the book is about: good soul food.
The author, devoted cook, DJ and music lover Sven "Katmando" Christ from Bavaria hence decided to present the recipes in both English and German, and that is rather unusual. Collecting, cooking, slightly altering or experimenting with major ingredients such as bacon grease, pig knuckles and intestines, peppers, pork brain, catfish and okra, Mr. Christ for a good 15 years on journeys to the Caribbean and the South has collected 68 recipes altogether.
On 156 pages the future soul food fan can choose from hearty and rather spicy dishes such as Chicken and Sausage Jambalaya, Battered Chitterlings, Black Eyed Pea Soup, Corn Bread and a number of sweet deserts in this brand new TRIKONT issue. (FYI: Trikont is the most unusual German record label offering tons of strange, obscure, exotic and altogether brilliant music from the past 100 years.)
A message to the vegetarians: you may find but very few recipes of interest here, since the style of cooking has its roots in the cuisine of the poor southern blacks, sometimes even reaching as far to the past as slavery times. And back then in the dark days a vegetarian diet was not desired since the work of those people consisted mostly of backbreaking hard physical labor where a hearty meal was much preferred. Furthermore, we need to keep in mind than many ingredients were so cheap that they were either thrown out by the white middle class or given away for free by butchers since nobody else would buy pig's feet and the like.
If you are still looking for a nice Christmas present, this may just be what you have been looking for, giving your preferred folks your favorite food and music. Another piece of good news: Any purchase goes together with the free download of the book as a digital file.
Review by Dr. A. Ebert (C) 2012
SOULFOOD. Food & Music. Fat & Yummy TRIKONT US-0442 Box-Set:  156 pages + CD with  18 Tracks
Tracklist CD
01. Bo Diddley – Soul Food
02. Raynel Wynglas – Bar-B-Q-Ribs
03. Jr. Walker & The All Stars – Home Cookin'
04. Chuck Womack & The Sweet Souls – Ham Hocks & Beans
05. Willie Bobo – Fried Neck Bones And Some Homefries
06. The Poets Of Rhythm – Strokin' The Grits
07. RZA – Grits
08. Southside Revue – Chittlins / Part 1
09. Rufus Thomas – Greasy Spoon
10. The Watts 103rd Street Rhythm Band – Fried Okra
11. Andre Williams – Pig Snoots
12. Wendy Rene – Bar-B-Q
13. Oscar Brown Jr. – Watermelon Man
14. Red Rodney Sextet – Dig This Menu Please!
15. Goodie Mob – Soul Food
16. Hugh Brodie – Corn Bread And Beans
17. Dr. John – Pots On Fiyo (Filé Gumbo) / Who I Got To Fall On (If The Pot Get Heavy)
18. The Carter Brothers – Roast Possum
(This review was previously published on www.jive-talk.com – Musing on JAZZ and Related Topics).